Feature:
● IP67 weatherproof
● No power consumption when in standby
● Embedded spring in battery's cap
● Optional battery type: One CR123 or two AA batteries can power this unit
● Auto operating mode: In this mode, the IR illuminator will turn on automatically when the ambient light is less than 0.05Lux and will turn off automatically when the ambient light is more than 0.1Lux.
● Fully adjustable head mount: The head mount can be adjusted according to head size.
● Mil-spec mufti-coated optic: Multi anti reflection film can restrain the reflex of lens, which can reduce the loss of light so more light can go through the lens to get a sharp image.
● Automatic brightness control: When the ambient light changes, the brightness of the image detected will keep the same to insure a stable viewing effect and also to protect users' eyesight.
● Bright source protection: The device will shut off automatically in 10 seconds to avoid the damage of the image intensifier tube when the ambient light exceeds 40 Lux.
● Low battery indication:
Specifications
IIT

Gen2+

Resolution (lp/mm)

45-64

Photocathode type

S25

S/N (dB)

21

Luminous sensitivity (μА/lm)

450-600

MTTF (hrs)

10,000

Magnification

1x

FOV (deg)

40

Detection distance (m)

220-280

Diopter (deg)

+5/-5

Lens system

F1.2, 25.8mm

Range of focus (m)

0.25--∞

Dimensions (mm)

149x121x51

Weight (g)

413 (with battery)

Power supply (v)

2.0-4.2V

Battery type (v)

CR123A (1) or AA (2)

Battery life (hrs)

80(w/o IR)

40(w IR)

Operating temperature(℃)

-50/+60

Environmental rating

IP67

Inter pupillary Distance

75mm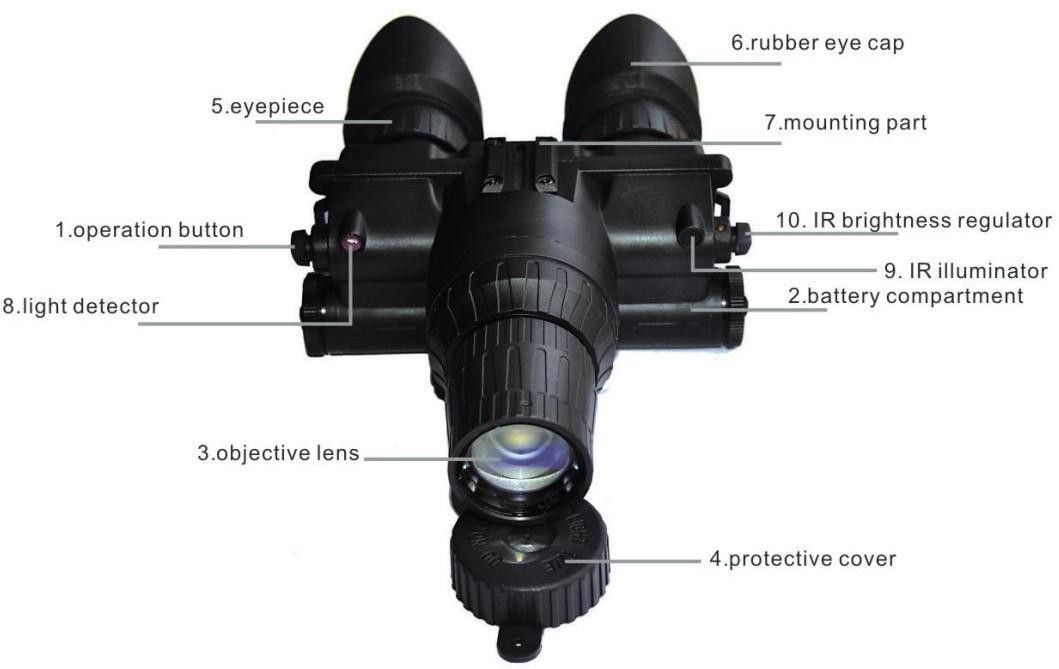 NV Goggle with 5X lens: