1. Structure and buttons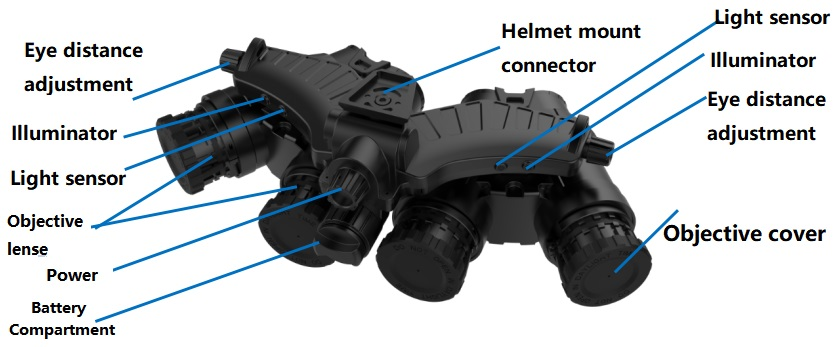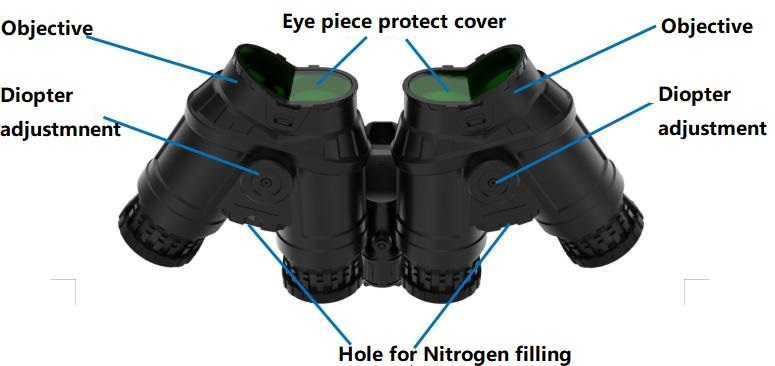 2. Specification:
| | |
| --- | --- |
| Model | PS18G4 |
| Structural mode | helmeted turnover four-eyed NVG |
| Battery type | Lithium battery (cr123Ax1) / cr123Ax4 external battery pack |
| Power supply | 2.6-4.2V |
| Installation | Head mounted(standard American helmet interface) |
| Control mode | ON/IR/AUTO |
| Power dissipation | <0.2W |
| Battery capacity | 800-3200maH |
| Battery life | 30-80H |
| Magnification | 1X |
| FOV(°) | 120x50 +/-2 °; Horizontal 120+/-2 ° ; Vertical 50 +/-2 ° |
| Coaxiality | <0.1° |
| IIT | gen2+ / gen 3 |
| Gain | Auto |
| Lens system | F1.18 22.5mm |
| MTF | 120LP/mm |
| Optical distortion | 3% Max |
| Relative Illumination | >75% |
| Coating | Multilayer broadband coating |
| Focus range | 250mm-∞ |
| Focus mode | Manual focus facility |
| Distance of pupil | 30mm |
| Aperture | 8mm |
| Diopter | -3~+2 degree |
| IPD adjust type | Arbitrary continuously adjustable |
| IPD adjust range | 50-85mm |
| IPD lock type | Manual lock |
| IR | 850nm 20mW |
| Working temperature range | -40--+55℃ |
| Humidity range | 5%-95% |
| Waterproof | IP65/IP67 |
| Dimensions | 155x136x83mm |
| Weight | 880G(without battery) |
| Dioptre adjustment | +2~-3 degeree |
3. Operations

A.Battery installation:
As shown by①, There is polarity mark (+,-) on the battery compartment. Please note the polarity when installing the battery.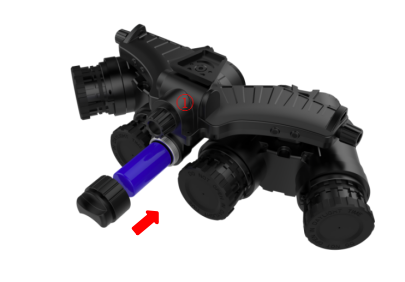 B.Power on:
As shown by②, rotate the switch clock wise to "On", the PS18G4 is powered on. Then rotate it to go through "OFF/ON/IR/AUTO"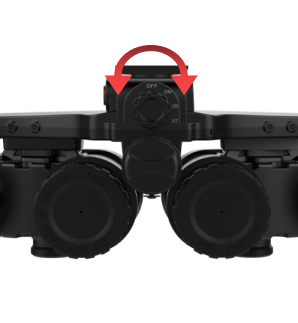 C.Eye distance adjustment:
As shown by ③, aim the left eye to
left objective to make
the image to be a circle.
Close left eye and aim by right eye to check. Different users
can adjust according to own
Comfort.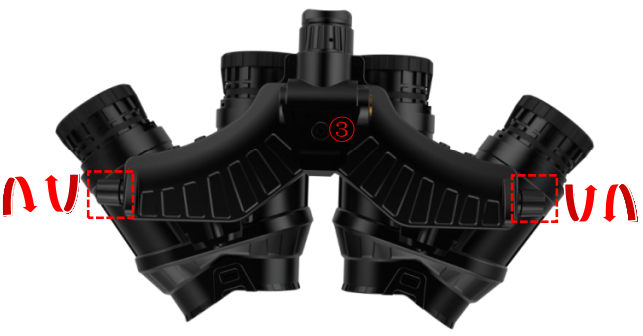 D.Dioptre adjustment:
Select a target in medium light, As shown ④,without open the eyepiece cover,clock wise or anti-clockwise rotate the eyepiece wheel to adjust the dioptre. When the clear image is observed.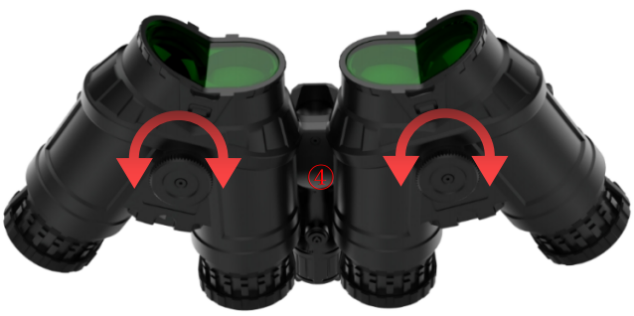 E.Objective adjustment:
This operation is to see clearly the target in different distance. Eyepiece should be adjusted before objective adjustment. As shown by⑤,choose a target in a darker condition, open the objective cover, aim the target, clockwise or anti clockwise the objective wheel until the clear image is seen. For target in different distance, each adjustment is needed.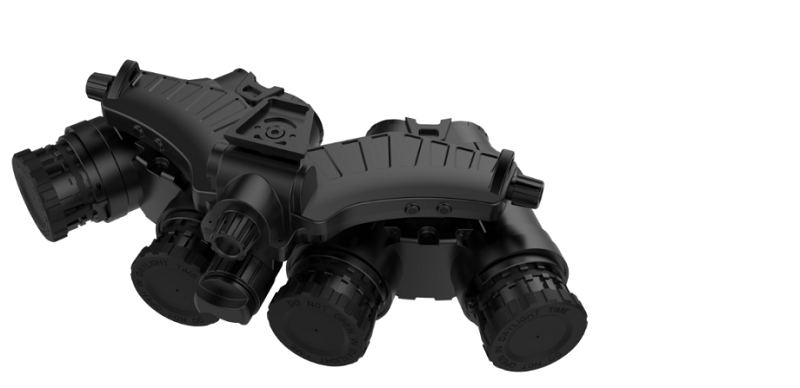 F.IR mode:
In the low light( or total dark),clear image cannot be seen, as shown by ②, enter "IR" mode, the PS18G4 can work under total dark condition. Please note the IR can be detected by similar device, by which the user is exposed.
G.Auto:
IN the " Auto" mode, the light sensor is initiated to detect the condition light: when in total dark condition, the night vision will switch on the IR illuminator; when the condition light is enough, the night vision will switch off the IR illuminator.
Notes:
1.Bright light off
The PS18 G4 is designed with an automatically bright light off function, which will automatically protect itself when encountering bright light; Although the bright light protection function can maximally ensure that the product will not be damaged when exposed to bright light, repeated bright light irradiation will also accumulate damage, so please do not put the product in the bright light environment for a long time or many times to avoid permanent damage to the product.
2. Damp proof
This night vision product is designed with waterproof function, and its waterproof ability can reach IP67 , but the long-term humid environment will also slowly erode the product and cause damage to the product, so please store the product in a dry environment.
3. Use and preservation
This product is a high-precision photoelectric product. Please operate ii strictly in the guide of the instructions. When not in use for a long time, please take out the battery and store it in a dry, ventilated and cool environment, and pay attention to shading, dust prevention and impact prevention.
Please do not disassemble or repair the product without authorization during use or damage caused by improper use!! Please contact the manufacturer directly.